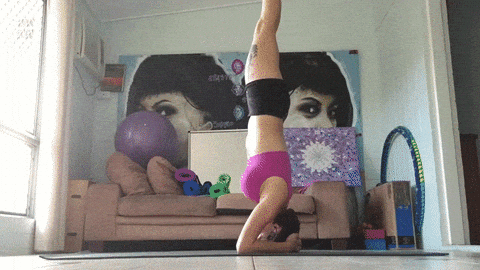 (This kitty reminds you to not worry about what anyone else's Yoga looks like. You are you and your mat is yours. Do your own Yoga, be your own Yoga, and it will be purr-fect.)
A quick reminder that there are just two weeks – and four classes – left in the current Spring session … plenty of time to get your classes in!  (The current session is scheduled to wrap up on Wednesday, April 24.)
If you need a count on how many classes you have left, just let me know.
A new 8-week Mo'Spring session will begin on Monday, April 29 and will take us almost all the way through June. It will include two Saturday classes!
Last call: If you're interested in a once-monthly Sunday meditation practice, let me know. Otherwise, we'll let it go. (Email me at jackie@peacefulhands.com if you're interested.)
I think that covers it!
It's never too late to start your Yoga practice … or come back to it.  Unroll your mat with us and see! More info on classes, including class days/times, what to wear/bring, fees, and directions to the studio can be found here.
Springtastically, Warmwonderfully Yours, Jackie
Oh, and here's a little springiness from Charlie Chaplin …