There's still a little YogaPalooza left before we wrap up the summer! (Just three classes left …)
And, the last of our three special Saturday classes is tomorrow – August 17 at 9:30 a.m.
Join us for some Earth, Wind, & Fire.
Ayurveda, the science of Yoga, reminds us that we are made up of elements: earth … wind … and fire.  Those are the elements that make up everything – people, trees, bears, frogs  …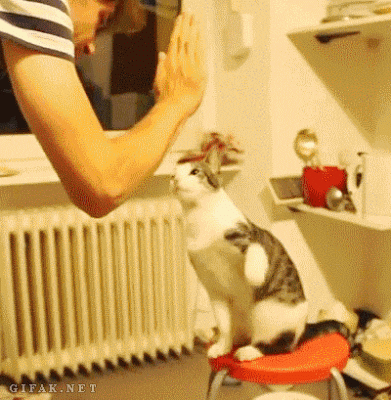 High Five, Cats! You're Earth, Wind, & Fire, Too!
One of the original purposes of Yoga was to use the practice to help correct imbalances of the body's elements and energies as a means of achieving or maintaining good health. Yoga poses can be used therapeutically to help soothe and rebalance our earth, wind, and fire energies.
On Saturday, we'll play and see how each element can move our Yoga practice  in very different ways. (And, yes, we're made up of water as well. We'll earth, wind, fire, and water our practice!)
Which is to say, there's more than one way to "down your dog."
(At a previous YogaPalooza — a zillion years ago! — we broke this class into three parts and I wrote a little more about the Yogic focus on these biologic elements and energies and how they work within us. If you want a quick refresher, you'll find that post from 2012 here.)
And, perhaps, perhaps … Earth, Wind, & Fire means something totally different to you. That's, ok. We've got you covered too.
Ayurveda has been the focus of much of my Yoga studies. I'm a Certified Advanced Ayurvedic Yoga Instructor with more than 1,000 hours of Ayurvedic study, most of that with the American Vedic Institute and Dr. David Frawley, one of the most respected Vedic and Ayurvedic educators worldwide.
If you're registered in the YogaPalooza session your Saturday class is already included as part of your Unlimited Session … or … it will count as one class if you're taking the 10- or 8-Class Session. (Get your make-up classes in, folks!)
Drop In's are welcome, too! Drop-In Fee: $13
 "Earth, Wind, & Fire", Saturday, August 17, 9:30 a.m.
Peaceful Hands Yoga
228 Warren Street     |     Orange Virginia
The full YogaPalooza class schedule is here.  Directions to the studio and more info can be found here.
ShiningStarfully Yours, Jackie