The 8-week SPRING YOGA session at Peaceful Hands begins on Monday.
Spring gives us a vibrant, new energy that can transform our Yoga practice. What was stiff in December, suddenly let's go. What was cold in January, warms. What was tired in February, awakens. There's something fresh and alive and wonderful when it's springtime on the mat!
It may still be chilly out … there are blustery cold days still ahead, I'm sure. I may not feel spring on the outside, but I sure do feel it in my bones.
Peaceful Hands Yoga Spring Session!
MONDAY, MARCH 2 thru WEDNESDAY, APRIL 22, 2020
Mondays and Wednesdays
4:30 p.m.  |  Level 1 
6:00 p.m.  |  Level 1 / Level 2
PLUS!  Saturday, March 14 and Saturday, April 4
9:30 a.m. |  Level  1 / Level 2
You can always just drop in from time to time, but … taking a session gives you a chance to commit to your practice and enjoy a generous discount (made even more generous, the more classes you take):
$125 – UNLIMITED, Monday/Wednesday classes, PLUS the Saturday classes. Take'em all! (This is nearly half-off the drop-in fee … which is, more than $100 in savings, which, I think you'll agree, is a pretty awesome discount.)
$80 – 8-Week Session, 10 Classes. Take ANY 10 of my classes during the session. Monday, Wednesday, or Saturday classes – mix and match as your schedule allows. (You save $50 off the drop-in rate!)
$74 – 8-Week Session, 8 Classes. Take ANY 8 of my classes during the session.  Any 8 classes during the 8 weeks — you choose the ones that work best for you. (A savings of $30 off the drop-in rate!)
$13 – Drop-In to any class.
If weather or whatever creates a cancellation, we'll extend the session accordingly.
Should YOU do Yoga? Let's find out …
Here's who should do Yoga:
Beginners, drop-in's, new friends, old friends, "I've never done Yoga before" people, "I'm not flexible, I can't do Yoga" people, "I've been doing Yoga at home for years, but never have taken a class with other people" people, "I'm not sure I'm going to like Yoga" people, "Blue's my favorite color" people, "I hate the color blue," people, people who appreciate a Muppet doing Yoga …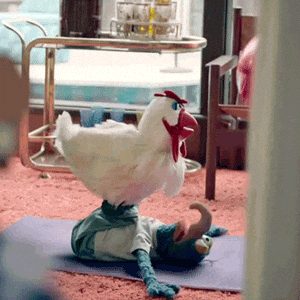 (Gonzo!)
Cat people …
Dog people …
Let's just cut to the chase.
Are you a person?
Then, yes, you should do Yoga.
And, I hope you'll come by and do some Yoga with us.
(Extra credit if you recognize the beautiful Yoga people modeling Cat Arch and Down Dog in that long-ago tiny Yoga studio.)
More info, including directions to the studio, are here. And, you can reach me at jackie@peacefulhands.com.
I've saved you a spot.
Warmingly Springfully Yours, Jackie