2023 Update: Peaceful Hands Yoga offers in-person classes in our Orange, Virginia studio, in addition to continuing our virtual Ether Studio for those who also want to practice at home. Yay!
If you'd like more information on the current schedule and classes, please email me at jackie@peacefulhands.com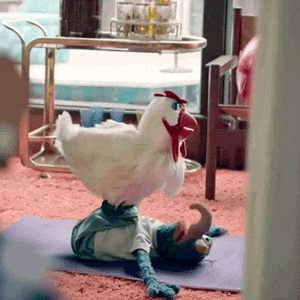 Yoga mat preferred. Chicken, optional. 
If you'd like the latest monthly calendar email me: jackie@peacefulhands.com and I'll forward it to you.
And, if the times and days don't work for you … Many of us have been Yoga'ing together in the Peaceful Hands Ether Studio since March 2020 through easy-to-stream audio Yoga practices.
We have more than 115 classes in our audio archive … with new classes coming all the time!
There are all sorts of practices with different focuses … longer 60-minute practices, short "quickies," just 5 or 10 minutes. There are practices just for your back … for your hips … for your shoulders … practices for stress relief … quieting practices for nighttime, perky practices for waking up.
Wanna give it a try? I'll unlock an Ether Studio class for you to try FREE.
Just email me: jackie@peacefulhands.com and I'll send you the link so you can unroll your mat and try out an ether class.
(Already an Ether Studio Subscriber or Super User? How about sharing this post with a friend who might want to join us?)
Whether it's in the studio, in the ether … or both! … let's unroll our mats together. ❤️
Here's to peace, love … and Yoga!
Spread Love,  Jackie